Image
The Lettie W. Jensen Library was built as a result of both need and generosity. By 1986 the previous location of the library had run out of space to accommodate the residents of Amherst and locations were being reviewed for a new library location. The recently cleared Jensen property on North Main Street looked to be a good opportunity but upon contacting Milton Blanc it was found that the property had recently been purchased by a different organization. Mr. Blanc then responded back stating that the Blanc family liked the idea of a library to be built on the old home-place.
Image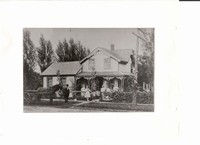 Mr. Blanc's mother, Lettie W. Jensen, was born in 1887 and grew up on the property. She loved the place and always carried good memories of her youth spent in Amherst. Mr. Blanc stated that he would provide financing for the library and would like it to be called the Lettie W. Jensen Library.
The building was completed on July 12, 1988 and a dedication party was held on September 10, 1988.
-For a more detailed history of the Lettie W. Jensen Library please visit our Historical Room in the library-