Friends of the Library
Image

Do you have any free time that you just don't know what to do with? Are you looking for ways to give back to the community?  Join Friends of the Library and you will need to look no further! Friends of the Library is a group of individuals committed to the success of the library and its many programs. Volunteer opportunities include shelving books, yard work, helping to organize events and much, much more! Meetings are held on the last Monday of the month in January, April, July and October. The Lettie W. Jensen Library would not be what it is today without its wonderful supporters.
Image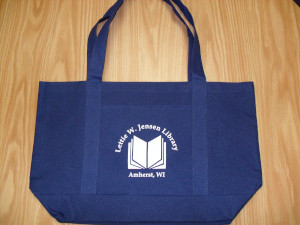 Book Bag Fundraiser
The Friends of the Library has book bags for sale! These sturdy canvas bags are large enough for even the most avid of readers to fill one up and leave the library content.  The bags sell for $8 each or two for $15. Come get yours today!
Donations
Monetary donations made to the library are used to assist with the operational needs of the library as well as to cover unanticipated expenses.  Donations can be made directly to the Lettie W. Jensen Library (278 N. Main St., Amherst, WI 54406).  If you wish for the funds to be used for a particular purpose please indicate at the time of donation (examples:  children's books, adult fiction books, large print books, audio books, DVD's, children's programming, operational expenses or building fund).  Donations can also be made in memory of someone.  Book plates can be put in circulated items "In Remembrance of..." to honor the individual if that type of material is chosen.  If you would like the family to be notified by the library that the donation was received, please provide us with the contact information.
The Lettie W. Jensen Library will only accept "New" donations that would add to its ever growing collection of print books, DVDs, and audio books.
Please Note:  
We will accept donation of gently used books if they are newer than five years old. We are not currently accepting dictionaries or other reference materials.